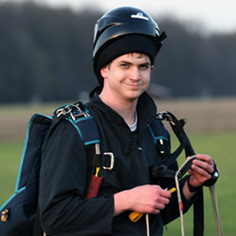 Ten years ago, Michael Stevens (CS '07) was an inspired high school student with big dreams. Now – just two years after he graduated from Carnegie Mellon – Stevens is supporting the dreams of another eager student by funding a Legacy Scholarship.
Why?
For Stevens, it is just a matter of "setting priorities, wanting to make an impact and understanding the importance of supporting the next generation of students."
He's also appreciative of the Carnegie Mellon grant and additional sponsored scholarship he received while attending the university.
But his Carnegie Mellon experience began before undergrad.
As a high school student, Stevens knew Carnegie Mellon was a unique place – and he wanted to be a part of it. So he enrolled in the
Carnegie Mellon Pre-College Program
during the summers between his sophomore and junior years.
But that wasn't enough. He began taking one regular class at Carnegie Mellon during his junior year, splitting his time between his high school and the university. By his senior year, he was taking two classes at Carnegie Mellon each term.
For Stevens, the pre-college program was a wonderful opportunity, which ultimately led to his full-time enrollment at Carnegie Mellon with advanced standing.
As an undergraduate student in the
School of Computer Science
, Stevens recognized the generosity of Carnegie Mellon donors and wanted to do his part. So he worked as a student Telefund Caller and volunteered with the Senior Gift Committee.
Stevens is now a member of the
Andrew Carnegie Society
and the
G.O.L.D. Society
, but he notes that, "You do not need to give a million dollars to make a difference. You just need to make an effort by getting involved, personally and/or financially and by staying connected to your university."