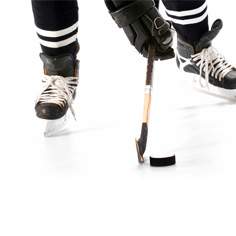 Want to see an instant replay of the game-winning goal? Or know for sure if the ball was in the end zone?
Carnegie Mellon engineering faculty, Priya Narasimhan and Rajeev Gandi, and their students are developing new applications for technology in sports. And Pittsburgh sports fans are reaping the benefits.
"
Yinz Cam
" is a unique large-scale mobile wireless video service designed to enhance the fans' experience at games. Users can obtain mobile video, real-time action replays, game-time information, statistics and player bios right from their arena seats.
With the Yinz Cam, spectators can download a widget onto their cell phones prior to the game. Then, while they're inside the arena, they can replay their favorite player scoring a goal, a fight that broke out or any other action on the ice from a variety of camera views.
Narasimhan was inspired by her students' passion for the Pens, so she made the project part of her capstone course on embedded systems design in the fall of '07.
But Penguins aren't the only team in town that could benefit from new technology developed by Narasimhan and a team of Carnegie Mellon students.
Narasimhan and a team of 15 sports-crazy students have developed what they call a "
smart football
." By installing a mini GPS unit and accelerometer inside, they can plot the football's progress and landing, even when it's under a pile of players.
In addition, they've also created a "smart glove" embedded with 15 sensors in the figures and palm, which can help determine if a receiver has control of the ball during critical plays.
Not only will this real-time feedback help referees with tough calls, but it could also be used to train athletes and scout new players.
Not enough?
Narasimhan and her students are also dedicated to expanding into "smart shoes" - which would be able to analyze a kicker's position on the ball, and uniforms that could analyze blocks.
Narasimhan, a professor in the
Department of Electrical and Computer Engineering
, wasn't always into sports. She was raised in India and Africa and thought little of sports until she came to the Steel City in 2001.
That's when she started watching the Steelers ... and the rest is history.