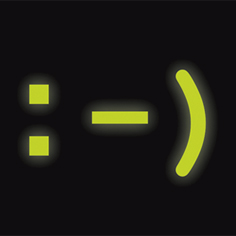 The Smiley :-) was created by Carnegie Mellon research professor Scott Fahlman on September 19, 1982. It was the beginning of emoticons in email ... ;-) :-( :-o
26 years later Carnegie Mellon gave its second annual Smiley Award, which recognizes innovation in technology-assisted person-to-person communication. The award - sponsored by Yahoo!, Inc. - is open to all undergraduate and graduate students at the university.
So what prized innovation won the 2009 Smiley Award?
This year's winner was
Grafitter
- a technology that makes it easy to collect information about yourself over time and depict it in graph form on Twitter. Grafitter is the creation of
Ian Li
, a doctoral student in the
Human-Computer Interaction Institute
.
With help from Grafitter, you could record your weight, the amount of exercise you get and the food you eat by sending simple
Twitter
messages with special tags. Later, you can see all of these items in graph form and, optionally, share them with your community of friends on Twitter.
Watch the demo
to see how Grafitter works.
Li is no stranger to the Smiley Awards. Last year, he won an honorable mention for his web-based
Moodjam
application that tracks people's emotional states.
This year's Honorable Mention award went to a trio of undergrads - Ilya Brin, Dan Eisenberg and Kevin Li - for their creation of EyeTable.
Every wonder how a first date is going?
EyeTable is an intelligent restaurant table that uses headsets and sensing technology based on the Wii game controller to determine how well people are responding to one another on dates by analyzing their gestures and speech patterns.
Want real time updates of other impressive innovations? Catch up with
Carnegie Mellon on Twitter.