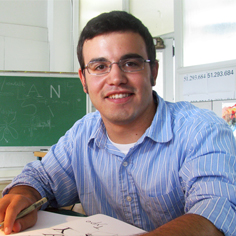 Every day many students are pursuing a one-of-a-kind education at Carnegie Mellon thanks to the help of generous scholarships.
Take
Nicholas Abele
(A'12).
After one visit to the Pittsburgh campus, Abele was so impressed with the
School of Design's
facilities and community atmosphere, he bumped Carnegie Mellon up to the top of his college list.
Abele knew attending Carnegie Mellon wouldn't be possible without some financial help. And in these tough economic times, he wasn't alone. For Abele, being awarded a Shapira scholarship to attend Carnegie Mellon made the difference. Now he is enthusiastically pursuing a degree in communication design.
Keenly aware of his good fortune, Abele would like to
pay it forward
in any way possible. He's grateful the Shapiras took a chance on him and hopes to someday sponsor a scholarship for another deserving student.