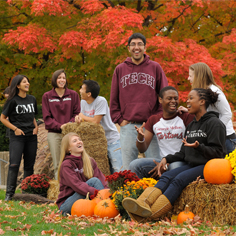 It's homecoming at Carnegie Mellon's Pittsburgh campus this weekend. The festivities will begin on Thursday, October 29 and continue through Sunday, November 1.
What don't you want to miss?
The Alumni Awards
Friday, October 30
University Center, Rangos Hall
5:30 p.m.
Among this year's
alumni award honorees
is robotics pioneer William "Red" L. Whittaker (E'75,'79). Whittaker has developed unmanned robots to work in dangerous sites, rugged terrains, both on- and off-road. And now he has plans to land and operate a robot on the moon.
The Pausch Bridge Dedication
Friday, October 30
Purnell Center for the Arts, Main Entrance
7:30 p.m.
President Jared L. Cohon will preside over the dedication of the
Randy Pausch Memorial Bridge
– a 230-foot-long pedestrian bridge connects the Purnell Center for the Arts with the new Gates Center for Computer Science. A great reminder to the campus community of the impact alumnus and professor Randy Pausch had on Carnegie Mellon and the world.
Scotch 'n' Soda Presents "The Mystery of Edwin Drood
"
Saturday, October 31
University Center, McConomy Auditorium
7 p.m.
A wildly warm-hearted theatrical experience complete with a love story, a play-within-a-play, and an unfinished Dickens mystery. Get tickets and view other show times on the
Scotch 'n' Soda website
.
For more homecoming events, find the
complete schedule
and a
campus map
online.
It's not too late to come and explore changes to the campus landscape, reconnect with classmates and friends, enjoy familiar traditions -- and perhaps even start a few new ones.
If you haven't already registered,
registration
is available on-site.
Hope to see you here!