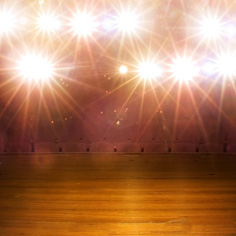 They want to be a part of it — New York, New York — and they are. Alums from the
School of Music
perform on stage in major opera companies, musical theater productions and with world-class ensembles around the globe.
Coming soon:
Liam Bonner (A'03) makes his Metropolitan Opera debut in the February production of "Carmen."
Jeffrey Behrens (A'03) makes his debut with the Met in its March 2010 production of Shostakovich's The Nose (Die Nase).
Already stealing the show:
Graham Fenton (A'05) is singing the Frankie Valli role in "Jersey Boys."
Patricia Phillips (A'85) is starring as Carlotta in "The Phantom of the Opera."
Christiane Noll (A'90) has received accolades for her performance in the revival of "Ragtime," which opened in November 2009 and closed with a final performance on January 10, 2010.
Catherine Walker (A'01) is a member of the Ragtime cast.
And it's not just School of Music alumni making their mark on stage. Many
School of Drama
alums are also performing on Broadway. One dramat —
Kyle Beltran
(A'09) — is in Pittsburgh this week as star of the Broadway musical "In the Heights," which is touring nationally.