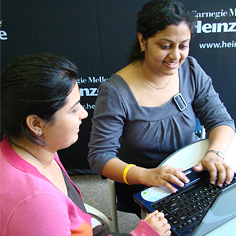 Keeping track of your personal health records (PHRs) can be painstaking task. But soon that could all change.
Researchers in Carnegie Mellon's
Heinz College
-- along with
UPMC
,
Google Health
and
dbMotion
-- are developing technology that will give patients the ability to access their PHRs and add critical health information to the electronic records maintained by hospitals and physicians.
This would keep all records in one place, granting both patients and health care providers access to the most up-to-date information. Another bonus is the ability to share information bi-directionally. Simply put – health care providers will be able to share information securely with patients through the PHR and vice versa.
In the past, researchers have had difficulty aggregating data from a wide range of systems and making it coherent for users. Leave it to Carnegie Mellon and its partners have overcome this obstacle. The team has created a flexible, service-oriented architecture (SOA) platform that shares and organizes patient information in a meaningful way, regardless of what system or format the data came from.
Six graduate students studying
information systems
began work on this project last fall under the guidance of Prof. Rema Padman. Now it's expected to launch for patients as early as this spring.
Read more about this project on the home page >>