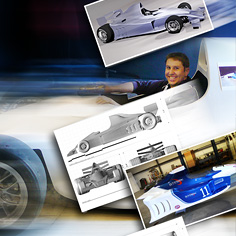 If you're among the millions who've seen Iron Man 2, you probably noticed the Grand Prix race car and Expo scenes (
both featured in the trailer
), along with Tony Stark's 'Hall of Armor.'
Those scenes and more were the work of Carnegie Mellon alum and talented set designer,
Andrew Birdzell (CFA'06)
.
So how does one land a gig like that?
Birdzell believes in the saying, "Luck is what happens when preparation meets opportunity."
In this case, when the rare opportunity to design elaborate, one-of-a-kind sets came a-knocking, Birdzell was ready for it. And he credits Carnegie Mellon for preparing him for the opportunity.
After working 12-hour days on the big budget Marvel Entertainment film for five months, Birdzell got to enjoy the movie – plot twists and all – along with the rest of the public. With fans eager for information, security was tight on set. Birdzell and his colleagues were only privy to the tiniest bits of the script that were absolutely necessary for their set creations.
Other alumni who had a hand in the making the Iron Man 2 movie a success:
Kenneth West (TPR'80), executive vice president and CFO of Marvel Entertainment
William Law (CFA'06), a fellow set-designer
Tricia Yoo (CFA'01), a set-costumer
Watch video on the School of Drama's design program >>