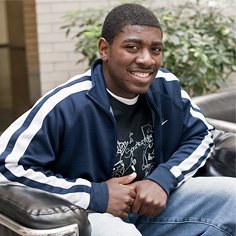 Kai Roberts.
It was his passion for hip-hop music that led Roberts to Carnegie Mellon. This fall, he'll be a freshman engineering student.
Hip-hop to engineering – it's a bit of a leap. For Roberts, the journey began in high school.
As a high school student, Roberts participated in the
Arts Greenhouse
(AG) – a hip-hop education outreach program that serves Pittsburgh teens. The AG is sponsored by
Carnegie Mellon's Center for the Arts in Society
.
The AG offers students music technology classes at CMU and the opportunity to record at the School of Music. It was his involvement with the AG that opened Roberts' eyes to all that Carnegie Mellon University has to offer.
Feeling a connection to the university, Roberts applied to CMU. He was thrilled when he received an acceptance letter, accompanied by a full-tuition grant.
Roberts is thankful for his experience with the AG. Not only did he learn about Carnegie Mellon through the program, he also learned about himself and discovered his passion for music.
Read more about Roberts' story on cmu.edu. >>