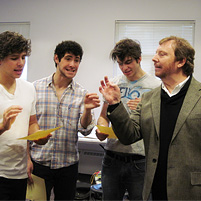 A decade after graduation,
Matt Bomer
(A'00) – star of the USA Network's hit series White Collar – can still rely on his former Carnegie Mellon professor, Don Wadsworth.
When a White Collar episode required Bomer to disguise his character by speaking with French and Italian accents, he called Wadsworth for a refresher.
"The great thing about Don is I got a lifetime teacher with my four years of training," said Bomer. "I know when I call on him for something I'm going to have that history of trust. And I know I'm going to have fun."
Wadsworth – a professor of voice and speech at CMU – has coached the voice work for actors on and off Broadway, in feature films, TV, regional theater and video games. He's coached Oscar-nominated stars and even appears in a few films himself. Now with southwestern Pennsylvania's burgeoning reputation as a great location for movie and television productions, he's been getting even more requests for both coaching and acting.
Still, with all of that going on, Wadsworth makes time for his students – current and former.
"I remember Don taking time with me even before class and after class," recalled Bomer. "He always brings 100 percent commitment to everything he does."
Read more about Don Wadsworth and Matt Bomer on
cmu.edu
.