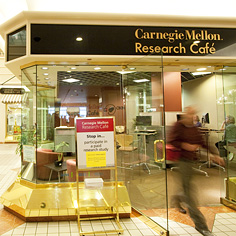 When you walk into a café and place your order, do you ever stop and wonder what led you to that decision?
Many factors can influence the decisions you make while standing at the counter. And researchers in Carnegie Mellon's
Social and Decision Sciences Department
want to know what they are. So they set out to learn more about how people live and make decisions. Enter the
Research Café
.
So what exactly is a
research
café?
It's part coffee shop, part research lab. Visitors can earn money or gift cards by participating in a study while they sip their coffee or enjoy their lunch. It's quick, easy and – according to some – it's fun.
Studies range from consumer spending and saving, to health behaviors (i.e. dieting & smoking), to the cause of happiness.
Learn more about the Social and Decision Sciences Department's
Center for Behavioral Decision Research
, the
Research Café
and
other projects
.