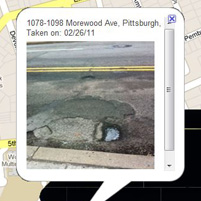 Potholes go hand-in-hand with springtime in Pittsburgh. But thanks to a new project at Carnegie Mellon, you can do something about it. And we're not suggesting you fill it yourself.
Simply snap a photo of a pothole and upload it to Facebook.
Thanks to the
Road Damage Assessment System
(RODAS) Project, the photos are linked to their location on a map. It's a way for community members to monitor potholes and alert government agencies of their existence.
The RODAS Project is headed by
Robert Strauss, professor of economics and public policy in CMU's Heinz College
and Takeo Kanade, professor of
robotics
and
computer science
.
Read more on cmu.edu
.