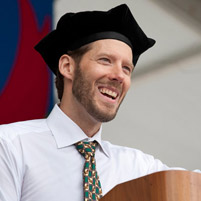 "May your boulders be your blessings," Aron Ralston (E'97) told the 2011 graduates at Carnegie Mellon University's 114th commencement ceremony.
In addition to Ralston's keynote address, the graduates and their families also heard remarks from student speaker Alia Poonawala and Carnegie Mellon President Jared L. Cohon.
During the ceremony, President Cohon announced that Jonathan Kaplan (TPR'90) — who revolutionized online video-sharing with his creation of the Flip video camera — established, along with his wife, Marci Glazer, the Open Field Entrepreneurs Fund at CMU.
Read more about the
Open Field Entrepreneurs Fund
at CMU and the
2011 commencement ceremony
.