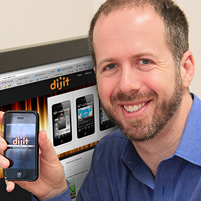 Wish you could control your entire television entertainment system with a single device?
Well, it's possible. The free Dijit app turns your smart phone into a universal remote and much more.
"Dijit is going to solve a point of daily frustration in home entertainment – and then we're going to add a lot more," said Jeremy Toeman (HSS'96).
Toeman is the Chief Product Officer at Dijit Media, which was founded by fellow Carnegie Mellon alum Maksim Ioffe (CS'02).
Read the full story >>